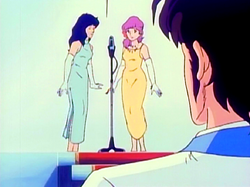 Together was a song performed by Lynn Minmei and Janice Em at Rick Hunter and Lisa Hayes' wedding. (Robotech II: The Sentinels) Minmei had personally wrote the song for the couple, and refused to have her record company release it. (Robotech II: The Sentinels Book 1 5: War Toys, The Best Laid Plans...)
Behind the Scenes
In the real world, the song's writer is Randall Rumage and features the singer Sunny Hilden. This makes the song the only piece by Lynn Minmei not to actually feature Rebecca Forstadt as the performer.
Ad blocker interference detected!
Wikia is a free-to-use site that makes money from advertising. We have a modified experience for viewers using ad blockers

Wikia is not accessible if you've made further modifications. Remove the custom ad blocker rule(s) and the page will load as expected.