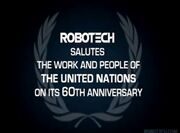 A sixty-second public service announcement for the 60th anniversary of the United Nations, featuring Scott Bernard and Ariel, was animated during the production of Robotech: The Shadow Chronicles. Although it did not use the original voice actors and the dialogue was somewhat out-of-character, it nonetheless marked the first fully completed Robotech footage in many years.
Ad blocker interference detected!
Wikia is a free-to-use site that makes money from advertising. We have a modified experience for viewers using ad blockers

Wikia is not accessible if you've made further modifications. Remove the custom ad blocker rule(s) and the page will load as expected.