Home
Talk

0
1,186pages on
this wiki
Everyone go Here and vote for the SDF-1
Robotech Saga Wiki is a collaborative website about Harmony Gold's hit cartoon franchise, ROBOTECH. This wiki's purpose is to be an encyclopedia of canon and licensed information concerning Robotech.
If you're looking for Super Dimension Fortress Macross go here.
May's Featured Article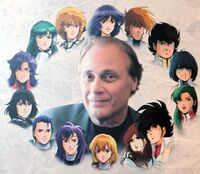 Carl F. Macek (21 September, 1951 – 17 April, 2010) Macek was born in Pittsburgh, Pennsylvania. He was an American writer, producer, and creator of the Robotech franchise.
He graduated from Cal State Fullerton in 1974 with a bachelor's degree in the theory and criticism of visual media.
Carl Macek came to public attention in 1985 as the producer and story editor of the influential animated television series Robotech, which he produced for Harmony Gold USA. Robotech is considered one of the titles most responsible for igniting the third wave of anime fandom in North America and internationally. Macek intended to produce a sequel to Robotech, dubbed, Robotech II: The Sentinels, but this project was canceled due to a number of circumstances (which are explained in detail in Roboech Art 3). While at Harmony Gold, Macek also produced the little-known, rarely seen Captain Harlock and the Queen of a Thousand Years (which combines the almost-unrelated stories of Space Pirate Captain Harlock and Queen Millennia).
Macek went on to co-found (with Jerry Beck) Streamline Pictures in 1988. Joining him were writers who had worked with him on Robotech, most notably, Steve Kramer, Tom Wyner, Gregory Snegoff and Ardwight Chamberlain, each of whom are also experienced voice actors. Streamline Pictures was one of the first American companies to successfully deal in the regular production of imported Japanese animation. Among the titles released by Streamline are Lensman, Robot Carnival, Doomed Megalopolis, Twilight of the Cockroaches, Crying Freeman, Wicked City, and the original English dub versions of Hayao Miyazaki's Laputa: Castle in the Sky, the Fist of the North Star film, Akira, Lupin III: Castle of Cagliostro, and Lupin III: Mystery of Mamo. As of 1993, Streamline Pictures distributed their anime through Orion Pictures and was eventually purchased by Orion in 1996. Both companies are now defunct.
He was working as a scriptwriter for the English dub of Naruto and Bleach for Viz Media, and consulting for Harmony Gold on Robotech: The Shadow Chronicles before his death.
Read the full article, here
---
Nothing will happen unless you make it happen, feel free to look around at the articles we have. Don't be afraid to edit, fix things up or add more information. If you are really brave why not create a new article on a topic the wiki is lacking.
To write a new article, just enter the article title in the box below.
Not sure where to start?
Adding content