Home
Talk

0
1,247pages on
this wiki

Robotech Saga Wiki is a collaborative website about Harmony Gold's hit cartoon franchise, ROBOTECH.




This wiki's purpose is to be an encyclopedia of canon and licensed information concerning Robotech. If you're looking for Super Dimension Fortress Macross go here. If you're looking for Genesis Climber MOSPEADA go here.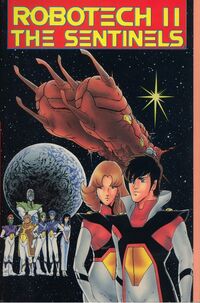 Robotech II: The Sentinels is a Robotech comic series released by Eternity Comics and Academy Comics in between 1988 to 1996. Although originally meant to be an adaptation, the comic, like the book series also being adapted at that time, became an original production when the series was canceled. The comic was ended in 1996 when Academy comics lost their license to print Robotech comics.
The comic series stands as the longest lasting Robotech comic series, running for 10 years, and with 72 issues and 6 "special issues." It also spawned a 12-part prequel, a 4-part spinoff, a six-part spin-off and a 5-part sequel. A followup to the comic series was printed in 2005, entitled Robotech: Prelude to the Shadow Chronicles. The comic left off where the Sentinels comic had, and ended the story. It also connected the comic to Robotech: The Shadow Chronicles.
---

What should Harmony Gold do next with the franchise?


Nothing will happen unless you make it happen, feel free to look around at the articles we have. Don't be afraid to edit, fix things up or add more information. If you are really brave why not create a new article on a topic the wiki is lacking.
To write a new article, just enter the article title in the boxes below.
Not sure where to start?
Adding content

Loading RSS data...

Create blog post
Holy Macaroni!, it had been months since i dont edit a think in the Robotech Wikia (including the Spanish one) and now out of nowhere, a new Series is anounced! damn!




This Academy series looks promising (but also a little... well...) and i hope to se…


Read more >

ATTENTION ALL USERS

lol

The Robotech franchise has experienced a surprising resurrection recently. Mid-2013 saw the release of Robotech: Love Live Alive, a feature-length film detailing the life of Lancer after the end of the show. The end of that year…

Read more >
See more >