Robotech Saga Wiki is a collaborative website about Harmony Gold's hit cartoon franchise, ROBOTECH.


This wiki's purpose is to be an encyclopedia of canon and licensed information concerning Robotech.

If you're looking for Super Dimension Fortress Macross go here.

If you're looking for Genesis Climber MOSPEADA go here.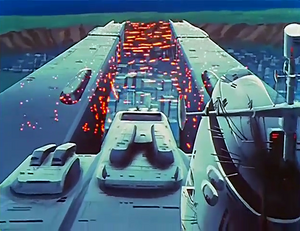 In the year 1999, Earth has been ravaged by the Global War. Brother battled brother as the conflict raged across the planet, but the devastation paled in comparison to a new threat which appeared to alter the course of human history forever. Astronomers discovered an alien spaceship that had broken through hyperspace on a collision course with Earth. Alarm increased as reports of the giant spaceship were confirmed by scientists around the planet. Eventually, they determined that the landing site would be Macross Island in the South Pacific.
The uncontrolled descent produced shock waves of incredible force; however, there was little damage to the island or, surprisingly, to the spaceship itself. The armored hull had taken the brunt of the fall, leaving most of the sophisticated technosystem intact. The gigantic craft was explored with a mixture of awe and anxiety. There was no sign of the alien crew, but the remains of the battlefortress gave evidence of a civilization that was centuries ahead of Earth's most advanced technology. That alone was the most sobering discovery. Neither the look of the spaceship nor the material found inside indicated its creators were a peaceful race. Annihilation by invaders from another planet had become a terrible possibility.
The Global War ground to a halt. A cease-fire was ordered, and world leaders banded together to form the United Earth Government. Under this new administration, a research team consisting of the most brilliant minds on the planet was formed to investigate and restore the battlefortress. The team labored to decipher parts of the documents from an incredibly complex technology called Robotechnology.
---

Who is your favorite scientists of Robotech lore?


Nothing will happen unless you make it happen, feel free to look around at the articles we have. Don't be afraid to edit, fix things up or add more information. If you are really brave why not create a new article on a topic the wiki is lacking.
To write a new article, just enter the article title in the boxes below.
Not sure where to start?
Adding content


Loading RSS data...

Create blog post
Community blogs
I just saw the trailer to Independence Day II and noticed a buncha things cloned from Robotech

After an alien war, the aliens return and humanity wages a desperate battle with space fighters that seem to work in the atmosphere that were reverse engin…

Read more >

One thing i always think to myself is if Robotech II: The Sentinels would had been a good series, heck, even a great continuation of the original Robotech.

I Haven't the read the comics based on the scripts but i have read some info about them and so…

Read more >
See more >