Robotech Saga Wiki is a collaborative website about Harmony Gold's hit cartoon franchise, ROBOTECH.


This wiki's purpose is to be an encyclopedia of canon and licensed information concerning Robotech.

If you're looking for Super Dimension Fortress Macross go here.

If you're looking for Genesis Climber MOSPEADA go here.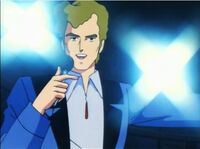 George Sullivan was a covert agent who gathered intelligence for the GMP while posing undercover as a lounge singer.
His younger sister Marlene was mortally wounded in a Bioroid attack. Sullivan abandoned his post to be with her has she died, but was arrested by the GMP and forced to act as a covert agent. He then started his undercover work as a lounge singer.
While investigating potential vulnerabilities in the motherships of the Robotech Masters, Sullivan became involved with Dana Sterling of the 15th Squadron. However, on their first mission together, Sullivan was killed in action and the information he gathered about the Robotech Masters failed to stop their vessels. (Masters Saga: "Stardust")
---

What do you think of the news of the Live-Action Movie's sudden revival in production?


Nothing will happen unless you make it happen, feel free to look around at the articles we have. Don't be afraid to edit, fix things up or add more information. If you are really brave why not create a new article on a topic the wiki is lacking.
To write a new article, just enter the article title in the boxes below.
Not sure where to start?
Adding content


Loading RSS data...

Create blog post
Hello, everyone!

http://vsbattles.wikia.com/wiki/VS_Battles_Wiki

Can you join it? If you're interested in them, then here you go.

Read more >

I think if they made a video game of the sentinels it could be able to tell it in a way that's true to the original ideals, while also reaching a new generation of fans. One of the things that got me into Robotech was the gamecube game Battlecry. I…

Read more >
See more >