Robotech Expeditionary Force
Talk

0
1,186pages on
this wiki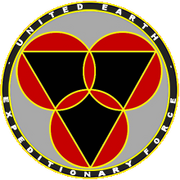 The United Earth Expeditionary Forces, or the Robotech Expeditionary Force was originally part of the Pioneer Expedition, but is now a division belonging to the United Earth Forces. The Flagship of the REF is the SDF-3 Pioneer. The REF's mission is to protect Human Colonies, however when the Third Robotech War started the REF had to create a division called the Earth Reclamation Force.
The REF was established during the Pioneer Expedition in 2022 to search for the Homeworld of the Robotech Masters, Tirol.
Sentinels War
Edit
Second Robotech War
Edit
During the Second Robotech War, the REF remained in conflict with the Invid, still stranded in the Local Group of Sentinels worlds.
REF Civil War
Edit
The REF Civil War was a conflict between the supporters of T. R. Edwards and those of Rick Hunter. Edwards' allies included the Invid Regent, while Hunter was supported by the Sentinels.
Third Robotech War
Edit
Fourth Robotech War
Edit
List of Commanders
Edit
REF Divisions
Edit
List of REF starship types
Edit
Capital Ships
Edit
Assault Shuttles
Edit
List of REF mecha
Edit