"Robotech: The New Generation" is a mobile video game developed by Big Blue Bubble and released by Airborne Entertainment for mobile phones.
Overview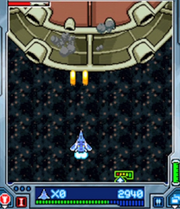 "Robotech: The New Generation" is a top down scrolling shooter. The gameplay covers the story segment of the Third Robotech War in the original show, with over 20 levels, five environments and three playable Veritech Alpha Fighters.
Levels
To be added
Characters
To be added
Trivia
The game received an editor's award from Wireless Gaming World.
External links
Ad blocker interference detected!
Wikia is a free-to-use site that makes money from advertising. We have a modified experience for viewers using ad blockers

Wikia is not accessible if you've made further modifications. Remove the custom ad blocker rule(s) and the page will load as expected.