This article appears in a source that is not canon, being neither a Primary or Secondary source of continuity. This could be a defunct novel, comic, or even an entire source that was never made. See Continuity and Canon in the Robotech Universe.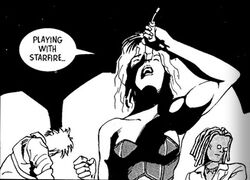 Playing With Starfire was a song popular in the early 2000's. Nina Lang sang it at a club. [citation needed]
Ad blocker interference detected!
Wikia is a free-to-use site that makes money from advertising. We have a modified experience for viewers using ad blockers

Wikia is not accessible if you've made further modifications. Remove the custom ad blocker rule(s) and the page will load as expected.