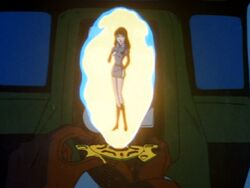 A Hologram was an image created by the use of lasers thus creating a three-dimensional phantom that was able to simulate a real object. The android Janice Em used a hologram to project a Human appearance and was used by her to imitate other forms. Holo-pendants used Hologram technology to project images of loved ones.
Appearances
Ad blocker interference detected!
Wikia is a free-to-use site that makes money from advertising. We have a modified experience for viewers using ad blockers

Wikia is not accessible if you've made further modifications. Remove the custom ad blocker rule(s) and the page will load as expected.