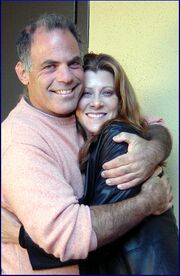 Gregory Snegoff (born 22 June, 1955) is an American voice actor, writer and dialogue director who frequently works on English-language anime-dubs. He is known for providing the voice of Scott Bernard in Robotech and Taki Renzaburo in Wicked City. He is also known by the names Greg Snegoff, Gregory Snow, and Greg Snow.
Other than the leading role in the New Generation saga, Snegoff has portrayed many other roles in the Robotech franchise; including Khyron, Emil Lang, Kramer, Alan Fredericks, Locke, and Xed.
Snegoff was married to fellow voice actor Lisa Michelson until her death in 1991; they worked together on various Streamline Pictures productions. He is the son of voice actor Alexandra Kenworthy and make-up artist Marc Snegoff, and brother of stuntman Tony Snegoff. He is a native to Santa Monica, California.