For The Organization known as GMP, see Global Military Police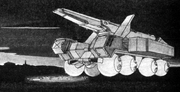 A Ground-Based Mobile Unit, or GMU, was a land-terrain vehicle which could carrier Mecha, utensils, or other needed objects.
During the Pioneer Expedition to Tirol, many of these were taken on the SDF-3. They could carry Destroids, VHT-1 Veritech Hover Tanks, and VF-8 Logans on-board. Jack Baker was assigned the task to pilot one of them under Vince Grant -- a fact which annoyed him, as he wanted to be a Veritech pilot. He lightened up when he heard that Karen Penn, a girl that he liked, would be stationed onboard the shuttle as a pilot. (Robotech II: The Sentinels: Good Morning)
Behind the scenes
The GMU was created for the aborted Robotech II: The Sentinels TV show.
In Robotech II: The Sentinels Roleplaying Game, it is called the Titan.
Appearances
Tertiary Sources
Ad blocker interference detected!
Wikia is a free-to-use site that makes money from advertising. We have a modified experience for viewers using ad blockers

Wikia is not accessible if you've made further modifications. Remove the custom ad blocker rule(s) and the page will load as expected.