Doctor Emil Lang was a brilliant human scientist/engineer and one of Earth's foremost Robotechnology experts.
History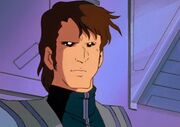 Lang was on board the SDF-1 when it took off from Macross Island as the head technician. (Robotech/Voltron: 1)
As a result of the missing fold system, the SDF-1 could not fire its gun because the conduit connecting the furnace and the gun were lost with the fold system. Dr. Lang's solution to this was to transform the ship and connect the main gun using a similar conduit. Doing so would disturb the city inside the ship and so Captain Gloval hesitated until an intense battle with Zentraedi ship. (Macross Saga: "Transformation")
After the First Robotech War
In 2015, Lang was working on the Advanced Veritech Fighter program and was displeased when Captain Rick Hunter took the prototype into combat. As part of the program Lang planned to dismantle Skull-One, the prototype of the VF-1 series, to gather structural analysis and stress fatigue data for the new project. (Comic: "Robotech: From the Stars 0: Promises")
The Pioneer Expedition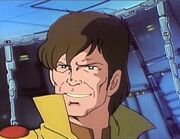 to be added
Third Robotech War
In 2044, Lang was onboard the SDF-3 when it performed a test-firing of the Neutron-S missile. (Robotech: The Shadow Chronicles)
Ad blocker interference detected!
Wikia is a free-to-use site that makes money from advertising. We have a modified experience for viewers using ad blockers

Wikia is not accessible if you've made further modifications. Remove the custom ad blocker rule(s) and the page will load as expected.