"
Danger Zone
" is the 42st of episode of
Robotech
and sixth episode of
The Masters
.
Summary
to be added
Synopsis
to be added
Memorable quotes
to be added
References
Characters
Vessels and vehicles
Other
Dana briefly serves as the narrator at the beginning of the story, recapping the previous episode. This was the second time that she had taken the normal place of the Robotech narrator, previously detailing the flashbacks in "Dana's Story."
Another news report occurs in this story, possibly the Macross Broadcasting Station again. It details known info on the alien Robotech Masters' ship, and names Zor by name as the commander of the forces.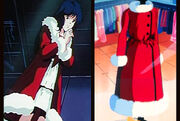 The red coat seen by Sean and the girl the he is with is very similar to the one that Lynn Minmei wore multiple times throughout the Macross Saga.
The red dress costs "12.870.000," which Sean Phillips notes to be more than he makes in a year. It is unknown what currency this is, or if it is the most common in the Robotech universe. The dress that Dana buys at the end of the episode costs "36000," and the wad of money that she gives the shopkeeper are green slips of paper.
Zor has attacked and destroyed a Suburban Base Section in Sector 3 at 8 am, leaving no survivors.
An Ultra-Violet Scanner is used to scan the damaged Bioroid and piece together its technology.
Dana Sterling, Bowie Grant, and Louie Nichols present their findings to Rolf Emerson at the Ministry of Terrestrial Defense.
When Marie thinks about Dana's dress, she notes "That's my outfit." Nova thinks "And I saved for months!" This odd bit of dialogue seems to suggest that Nova is adding onto Marie's thoughts with hers, as if they can hear each other's thoughts. The scene goes on to illustrate them making fun of Dana in unison (both saying the same words at the same time) and then posing at the camera. The name of the store that Dana buys the dress at is 'Fan Fan', although the space in-between the two words is not visible in some shots.
Background information
Cast
to be added