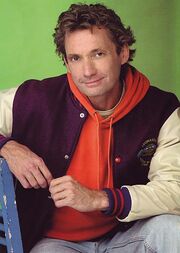 Cam Clarke, also known as Jimmy Flinders, (born 6 November, 1957) is the voice actor for Max Sterling, Lance Belmont, and Jack Archer in the videogame Robotech: Battlecry, as well as numerous other animated characters, such as Kaneda from Akira.
Clarke is most famous for voicing Leonardo from the 1980's Teenage Mutant Ninja Turtles cartoon and Liquid Snake in the Metal Gear series. In 1999, Clarke released Inside Out, a romantic / adult contemporary cover album.
External Links
Ad blocker interference detected!
Wikia is a free-to-use site that makes money from advertising. We have a modified experience for viewers using ad blockers

Wikia is not accessible if you've made further modifications. Remove the custom ad blocker rule(s) and the page will load as expected.